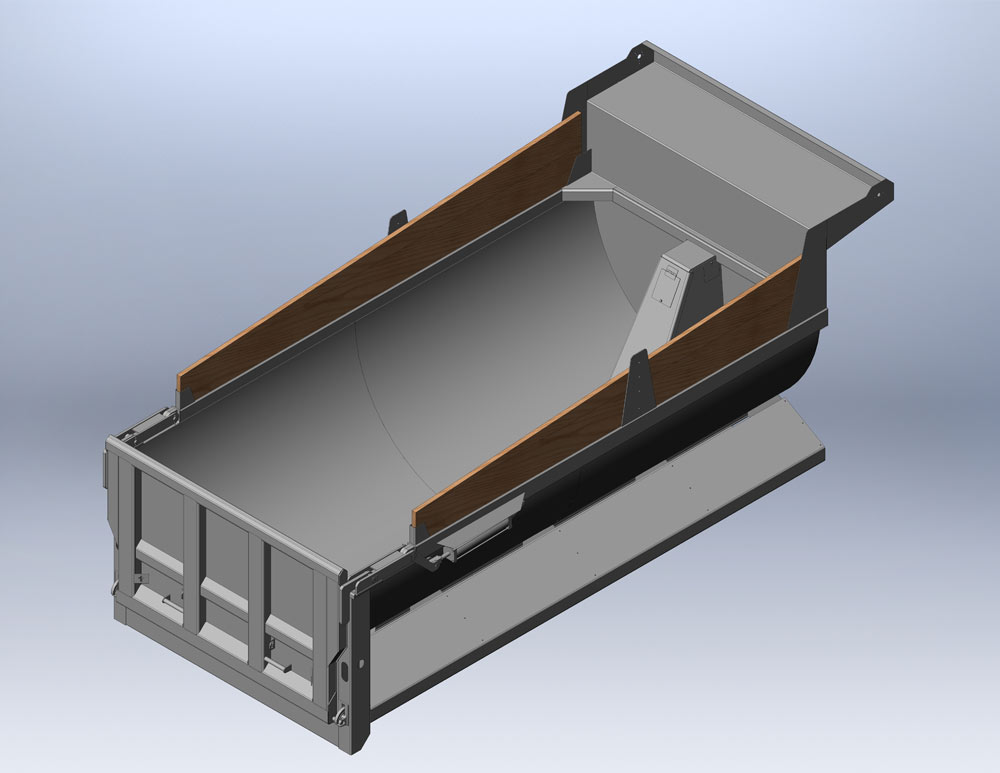 For job sites that require severe impact resistance over cubic capacity, like Rip-Rap and Dig-Out's, the Rowe Round Dump Body RBA2000 is the perfect solution. The unique "Barrel" shape provides a sloping surface to guide sharp impacts to a sliding stop instead of a crushing impact. Advanced High Strength Steel construction provides exceptional durability and keeps the body weight to a minimum. Pneumatic High Lift Tailgate or Barn Door Swing Gate options will satisfy your applications specific needs. The RBA2000 is the right choice for many owners.
Standard Features
3/16" Advanced High-Strength Steel: Choose between Quard 450 and Hardox 450.
Includes Body Tub, Tailgate, Front Bulkhead Sheet, and Hoist Tunnel "Dog House."
46" Round Side Walls with dirt shedding features.
The inside radius provides a sloping surface for heavy loads to slide down the body rather than directly striking the floor.
4" x 6" x 3/16" rectangle tube top rail for maximum support.
6-Panel Fully Boxed Heavy Duty Tailgate with 54" Inside Height.
Heavy Duty Upper Tailgate Hinges with removable, greasable, upper pins.
In-cab controls, Air Tailgate Latch valve, Air Shift PTO engage, Feathering Air Dump Pump control, Console Tower
Air Operated Tailgate Latch and pneumatic cylinder.
Oil Tank located inside Hoist Tunnel for protection while saving frame mounting space.
Hydraulic hoses, fittings, and valves
Tailgate Spreader Chains
Crossmemberless Floor Understructure uses 3/16" Trapezoidal Longsills internally gusseted
Comes with Zinc Rich Primer, the best on the market, or an optional Genesis Primer.
7" Bore 4-stage Telescoping hoist, most common, additional sizes available based on your needs.
Choose between Custom Hoist and Hyva Cylinders
Dump Pump sized to match your hoist, chassis, and application
Hoist Basket Cradle
Heavy Duty Rear Hinge with greasable pins
Standard Dump Body Light Package with Rubber Grommets includes 6" Oval Stop, Turn, Tail Lights (4 pc) and 2½" Round Red Side Marker Lights (2 pc) with wiring harness
Complete wiring harness customized for our dump body light package with additional leads for auxiliary lights
Body Props and Bed Guides, 1 each per side for extra safety and ease of operation
1 Year Warranty on dump body
American Made Quality since 1920.
No other country produces the fine quality as true American Made products, Rowe Truck Equipment continues the tradition.
Optional Features
¼" thick AHSS Upgrade for Body Tub, Tailgate, and Front Bulkhead sheet
Integrated Cab Shield to match the cab height and width on your chassis.
Quarter (15"), Half (27"), and Full (36") Forward Projection Cab Shield
Electric Tarp Covering System built into the Integrated Cab Shield for clean, seamless look.
Barn Door Tailgate, double acting: Conventional Dump and Barn Door Swing Gate
Air Operated High Lift Tailgate
Coal Chute (up to 3)
Available Spread Aprons which are fully welded, bolt-on, and pin-on designs
Spread Aprons come in 6", 8", 10", and 12" lengths
Trunnion Mounted Telescopic Hoist. Chose from Mailhot Industries or Hyva.
Heated Floor Understructure
Tread Brite aluminum fender covers
Body Vibrator
Pintle Hitches, air actuated
Custom Paint for that auto-showroom finish.
Polyurea coating
Side Board options including Single, Double, and Tapered, Choose Wood, Steel, Aluminum, or Poly Composite.
Rectangular Frame Mounted Oil Tanks with internal baffles, breather fill cap, and sight level indicator, and multiple port sizes and locations.
Additional Lights, such as Strobes or Oval Ambers, installed in the Cab Shield, Fender, or Rear Corner Post
Shovel, Scraper, and Broom Holders
Body Tie-Down/Spreader Clips